Roll over image to zoom in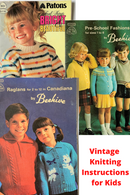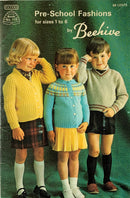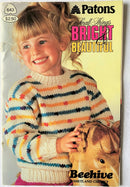 Description
We have moved our shop to ETSY. Please visit ETSY to purchase this item and other great finds. 
This is a set of three booklets for knitting from the 1950s or 60s.


Patons - #643 Small Things Bright and Beautiful for Shetland type sweaters - 37 pages
Preschool fashions - Book 110 - Size 1-6, 24 pages - Preschool Fashions 1-6 by BEEHIVE
Raglins 2-12 in Canadiana by BEEHIVE - Book 104 - 22 pages
Also:
Condition: Great - no missing pages, minor wear and tear - in great shape considering they are about 60 or more years old
No smoke smell, etc.
You can various types of yarn and all books contain great patterns

You can make wonderful sweaters, pullovers, shirts and cardigans for sizes 1-6 or 2-12 as seen on the cover of these 1950s/60s knitting books


Please visit our ETSY store if you wish to purchase this item or other great things from our shop! -->  ETSY.COM
Payment & Security
Your payment information is processed securely. We do not store credit card details nor have access to your credit card information.