Roll over image to zoom in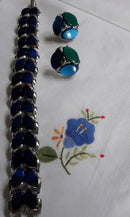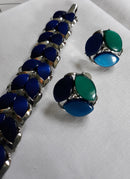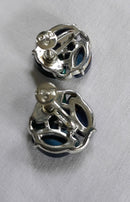 Description
We have moved our shop to ETSY. Please visit ETSY to purchase this item and other great finds. 
Stunning unsigned thermoset, cabachon leaf, bracelet that looks like Lisner due to the quality (stronger looking that Coro) with earrings that are teal and blue, clip-ons that are signed LISNER. Set is in great condition. The bracelet is in excellent condition with a working clasp. The only small flaw is the earrings have a glue stain at the side but are intact.
See photos
Earrings are moonglow medium blue - 1 inch in diameter
Bracelet is only 7 inches with no extender. Note, if you have big wrists, this may not fit you. It does not fit me but I have big bones. Please measure your wrists since there is no stretch to this since it's lucite and metal with the one clasp.
What is Thermoset? Well, lucite jewelry was manufactured during the 1950s-1960s by many costume jewelers. The lucite (a heavy plastic) could be molded into many creative shapes and designs including circles, leaves, squares, triangles, etc. Stunning. Coro and other designers made this jewelry popular. Lisner is even better quality and this set looks like Lisner due to the back of the bracelet's design.
*Jewelry is cleaned for sanitation purposes. Also cleaned with rubbing alcohol*
Please visit our ETSY store if you wish to purchase this item or other great things from our shop! -->  ETSY.COM
Payment & Security
Your payment information is processed securely. We do not store credit card details nor have access to your credit card information.