Roll over image to zoom in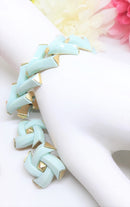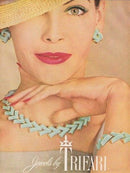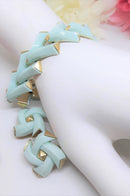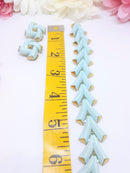 Description
We have moved our shop to ETSY. Please visit ETSY to purchase this item and other great finds. 
Ooh la la..
This set and the colour is INCREDIBLE...
Details:
Trifari signed, 1960s bracelet and earring set 
Thermoset - robin egg blue, teal or turquoise or aqua - however you want to call it
Clip-on earrings x 1 inch included -  matches the bracelet
7 inches x 1 inch bracelet
Backing in photo shows fate red but it is the light - the back is almost perfect
Buckle clasp (so no way to extend) - fits small to medium wrists
1 inch width of bracelet and matching earrings. Necklace is NOT included - would be a great find if you could locate. 
I would keep this but the bracelet does not fit me (I have large wrist) and it is not extendable. One of my favourite jewelry items EVER. So mid century mod and a great colour. Cream of the crop...
See the digital Trifari ad from the 1960s (not included!) - just for show! Spectacular. If only I had the matching NECKLACE this would go for well over $150! This is a great collection.
Note:  I clean all of my jewelry with an ultrasonic machine or by hand, if very delicate. Also, rubbing alcohol is used for sanitation purposes.
Please visit our ETSY store if you wish to purchase this item or other great things from our shop! -->  ETSY.COM
Payment & Security
Your payment information is processed securely. We do not store credit card details nor have access to your credit card information.