Roll over image to zoom in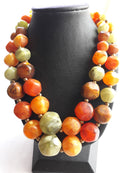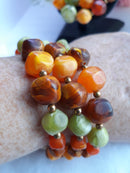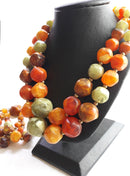 Description
We have moved our shop to ETSY. Please visit ETSY to purchase this item and other great finds. 
This is a stunning, high quality glass carved beads, double strand, beaded necklace, with matching triple strand bracelet. Unsigned but very high quality. See photos for this demi parure set.
Colours - shades of green and orange glass beads
Bracelet length - 7.5 inches, TRIPLE STRAND
Necklace Length - 15 inches, DOUBLE STRAND
Height - .5 inches
Definitely a unique, 1960s set with stunning beads that is in great condition. Some slight wear on the clasp but very unnoticeble when worn.
Note: I clean all of my jewelry with an ultrasonic machine or by hand, if very delicate. Also, rubbing alcohol is used for sanitation purposes.
Please visit our ETSY store if you wish to purchase this item or other great things from our shop! -->  ETSY.COM
Payment & Security
Your payment information is processed securely. We do not store credit card details nor have access to your credit card information.