Roll over image to zoom in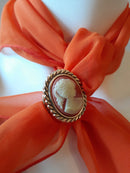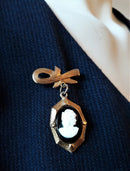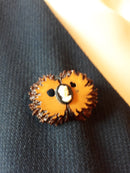 Description
We have moved our shop to ETSY. Please visit ETSY to purchase this item and other great finds. 
These three brooches are sold together as a set for the true collector. Cameo brooches were first introduced in 3 BC and today, they are still very elegant and popular.

Attached in this lot are are the following:



1 x Made in West Germany Light Red 1950s-early 1960's SCARF pin with gold rope trim. 1.5 inches long x 1 inch wide - circa 1960s/50s


1 x Wooden brooch with two natural wood holes - 1 inch long x 1.5 inches wide. There is an ever-so-slight missing bit of paint on the wood coating but it is almost unnoticeable (hence why I included this as a three piece set.)


1 x Gold dangle ribbon brooch with a black cameo 1.5 inches long x 1 inch wide. This is the older of the lot - circa 1960s

Beautiful for your collection! If you like cameos or know someone that adores them, this is a great diverse set!

Note: I clean all of my jewelry with an ultrasonic machine or by hand if very delicate. Also, rubbing alcohol is used for sanitation purposes.
Please visit our ETSY store if you wish to purchase this item or other great things from our shop! -->  ETSY.COM
Payment & Security
Your payment information is processed securely. We do not store credit card details nor have access to your credit card information.