Roll over image to zoom in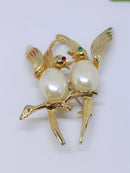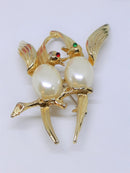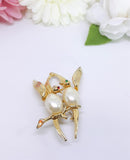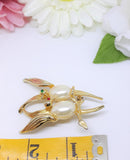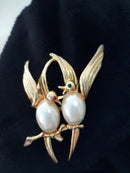 Description
We have moved our shop to ETSY. Please visit ETSY to purchase this item and other great finds. 
I won't deny it - I love this brooch. It's a whimsical keeper of two birds perched with faux pearl bellies and rhinestone eyes.
Details:
3 inches in length
2 inches in width
Gold tone - in good condition (light wear on one wing but almost noticeable)
Unsigned
C Clasp at the back for security

Many parts of me thinks this is made in the 1980s but it's good quality and the backing looks like it is more handmade vs machinery, which was common when brooches were made in that era. So my closer guess is the 1970s.

It's not in mint condition - he's a bit of a wounded bird. But this brooch is precious and would be a great addition to your collection.. I think of Spring and birth and renewal when I see this pin. They look like seagulls in a way which reminds me of warm weather.
Please visit our ETSY store if you wish to purchase this item or other great things from our shop! -->  ETSY.COM
Payment & Security
Your payment information is processed securely. We do not store credit card details nor have access to your credit card information.