Roll over image to zoom in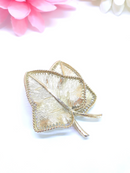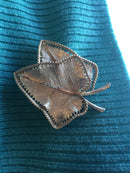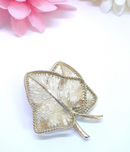 Description
We have moved our shop to ETSY. Please visit ETSY to purchase this item and other great finds. 
I love this brooch, signed BSK. Details:
- Vintage from the 1950s, judging by the back,
- Silvertone, featuring two folded leafs, in great condition
- 2 inches long by 1.5 inches wide
- Very elegant, would like great on a dress, jacket or coat
- Great working safety clasp
BSK began in New York in 1948 and was in business until the late 70s, early 80s. The letters BSK stand for the first initials of the three owners: Benny Steinberg, Slovitt and Kaslo. This company was very popular in the 1950s. It was good, reaonably priced, department store jewelry that suffered from being far underrated. All of the jewelry I have seen stamped BSK has been pure vintage elegance to me.
Note: I clean all of my jewelry with an ultrasonic machine or by hand if very delicate. Also, rubbing alcohol is used for sanitation purposes.
Please visit our ETSY store if you wish to purchase this item or other great things from our shop! -->  ETSY.COM
Payment & Security
Your payment information is processed securely. We do not store credit card details nor have access to your credit card information.