Roll over image to zoom in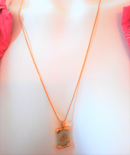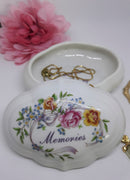 Description
We have moved our shop to ETSY. Please visit ETSY to purchase this item and other great finds. 
This is a lovely set of five pieces of vintage, signed, Avon jewelry, along with the 1984 Memories music box. Six pieces in total. Included in this set is the following:
1 x 'Memories are for sharing' ceramic music box that plays a melody when the lid is open (you wind the music piece on the inside lid = unsure of song) 4 long x 3 wide x 2 high (in inches) - white with writing
- Box is made in Japan as stamped at the bottom. Sankyo music piece.
1 x Pair of aquamarine, blue, rhinestone heart earrings, screw-backs in excellent condition, signed Avon. Silver backs, almost new
1 x Gold Thick, chunky hoop earrings, clip-ons, in excellent condition, signed Avon
1 x Gold tone, six sided brooch, marked Avon
1 x Gold Chain, marked NR Avon, 24 inches long, box chain
1 x Asian pendant, unsure of what symbol means but it's .8 inches x .5 inches. Very nice gold trim, with some sort of stone
1 x Faux Pearl Avon signed 14 inch necklace. Very nice
Note: I clean all of my jewelry with an ultrasonic machine or by hand if very delicate. Also, rubbing alcohol is used for sanitation purposes.
Please visit our ETSY store if you wish to purchase this item or other great things from our shop! -->  ETSY.COM
Payment & Security
Your payment information is processed securely. We do not store credit card details nor have access to your credit card information.