Roll over image to zoom in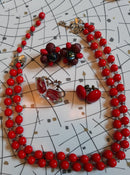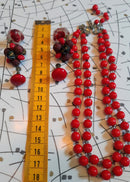 Description
We have moved our shop to ETSY. Please visit ETSY to purchase this item and other great finds. 
Stunning red vintage set of three clip-on earrings with a vintage 1950's necklace is HOT red. Red seems to be a hard color to find in the 50's, judging from my knowledge.
Included is:
- Red glass, double strand beaded necklace with glass accented beads. Note: this is only 16 inches long. If you have an elonged neck, you will need an extender.
1 Adorable octagon-style flower encased in glass clip-on earrings.
Note, there is some wear and tear. - 0.75 inches
3. An adorable red button style pair of SCREW-back (not clip on earrings) - 1/2 inch
4. An adorable red fruit salad pair of clip-on earrings with red, dark red and black aurora borealis center.
Signed Made in West Germany
Great set to mix and match.
Note: Whenever possible, I put my jewelry in an ultrasonic wash but if very delicate, I wash for sanitation reasons and use rubbing alcohol for hygeine purposes.
** Note these items are 65+ years old so there will be some natural wear and tear.**
*Note: I clean all of my jewelry with an ultrasonic machine or by hand if too delicate. They are also cleaned with alcohol for sanitation purposes.*
Please visit our ETSY store if you wish to purchase this item or other great things from our shop! -->  ETSY.COM
Payment & Security
Your payment information is processed securely. We do not store credit card details nor have access to your credit card information.