Roll over image to zoom in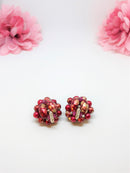 Description
We have moved our shop to ETSY. Please visit ETSY to purchase this item and other great finds. 
These are just fabulous - photos do not do justice!
Stunning 1 inch gold and red beaded clip-on earrings
Photos do not do justice
1 x 1 inch
Made in Hong Kong
Note, there is some wear on the back. They will be shipped with plastic clip-on earring comfort pads
Note: I clean all of my jewelry with an ultrasonic machine or by hand if very delicate. Also, rubbing alcohol is used for sanitation purposes.
Please visit our ETSY store if you wish to purchase this item or other great things from our shop! -->  ETSY.COM
Payment & Security
Your payment information is processed securely. We do not store credit card details nor have access to your credit card information.