Roll over image to zoom in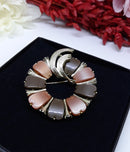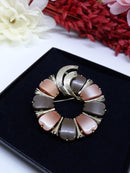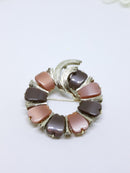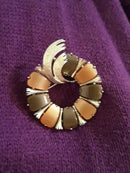 Description
This is a brooch that does not do justice in photos.
Details:
Themoset/moonglow cabochon - leaf or teeth shaped
Silver tone with a unique textured finish
2 inches in diameter
C clasp (very slight bend)
Signed - vintage Cara jewelry - very hard to read
1950s or early 60s
Would look great with almost any colour combination
In great shape! Gorgeous!
Note:  I clean all of my jewelry with an ultrasonic machine or by hand, if very delicate. Also, rubbing alcohol is used for sanitation purposes.
Please visit our ETSY store if you wish to purchase this item or other great things from our shop! -->  ETSY.COM
Payment & Security
Your payment information is processed securely. We do not store credit card details nor have access to your credit card information.