Roll over image to zoom in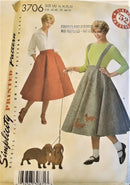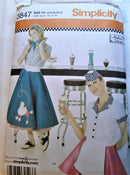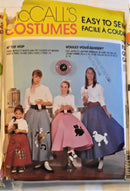 Description
We have moved our shop to ETSY. Please visit ETSY to purchase this item and other great finds. 
Have you ever wanted to sew and create your own swing skirts? This is a combination 3 pack sewing pattern set so that you can make several with different appliques, designs and sizes.

As a person who lives and breathes vintage, pin-up and rockabilly culture, this pattern has so many uses in modern day fashion. It can make a poodle skirt, a petticoat, a diner top, a mini skirt with an apron and just a simple swing skirt. This isn't a Halloween costume to me, it's a modern outfit!

Details PATTERN 1

Simplicity 3706 - uncut pattern

This is a reissued, reproduction pattern of the infamous poodle skirt that was so popular in the 1950s. The original pattern was released in 1952.

The pattern allows you to make a swing skirt, a blouse, and a skirt with or without suspenders - with or without the poodle. In fact, this doesn't come with a poodle decal - instead it wants you to make a skirt with a pair of dachshunds! 
For size 16-22, Europe 42-48, France 44-50
Blouse bust - 33.5 inches to 51 inches
Printed in the USA - reissue date 2007
Recommended fabric is chambray, broadcloth or cotton sateen

Details PATTERN 2


Simplicity 3847 Sizes 14-22 Large to XL - Some of the pattern has never been used.
One skirt pattern was cut to size 18. So it can be re-used as a smaller size or an 18. It is not ripped and it has all pieces.
Includes a poodle applique, petticoat, diner shirt and mini skirt pattern, plus an apron

Details for PATTERN 3 McCall 7253 Cut - uncut


For size Xsmall to Large (great for girl to adult lady)
Includes several appliques - a guitar, music notes, a cat, poodle.
Great for a large child size too
Note: Skirt pattern was cut to a LARGE (the largest size) so it can easily be used right away or resized.The rest is intact
Package is ripped due to previous, poor storage but patterns are 100% fine

Instructions are in FRENCH and ENGLISH for ALL three patterns this was bought and sold in Canada.

Whatever you want to make this pattern collection will allow you to make several skirts with different patterns, a petticoat, diner tops, mini skirt, and several designs. You can mix and match and make several sizes, styles and different appliques would be great if you are a designer or a if you make your own clothing

I also, just for fun, included in this listing (not included at all in the pattern), a photo of a group of ladies (taken from google-images) wearing skirts with different patterns. So the idea of making other designs give you endless possibilities.
Please visit our ETSY store if you wish to purchase this item or other great things from our shop! -->  ETSY.COM
Payment & Security
Your payment information is processed securely. We do not store credit card details nor have access to your credit card information.