Roll over image to zoom in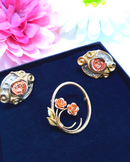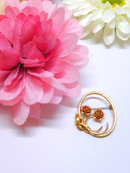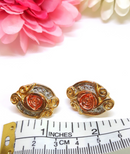 Description
We have moved our shop to ETSY. Please visit ETSY to purchase this item and other great finds. 
Photos do not do justice for these little gems that I am selling as a set.
Details:
BROOCH
I love brooches and I think this is a great, dainty keepsake as a gift decorate a purse, dress, blouse or jacket.
Oval shaped with detailed xox pattern around the entire area in an most intricate fashion
Two small petals with light pink inlay
1.5 inch in length and 1 inch in width
Safety clasp
EARRINGS:
These earrings are not the exact match with the brooch as they are bulky and less dainty. But they are floral patterned and have silver and gold trim.  The dusty pink floral inlays is a great match.
Details:
Oval shaped with swirls, silver and gold tone patterns.
Center is dusty pink, floral
1 inch in length x .75 inches in width
Clip-on earrings with original comfort pads (in excellent condition.)
Comes in black gift box. Circa 1960s-70s.
Note: Since we all know clip-on or screwback earrings can be painful, we include a FREE pair of silicone comfort clips. These miracle clips make the earrings wearable for hours, plus hold the earrings more securely. Also, I clean all of my jewelry with an ultrasonic machine or by hand, if very delicate. Also, rubbing alcohol is used for sanitation purposes.

This is another service peppermint-twist-vintage.com offers our customers - we try our best to please you!
Please visit our ETSY store if you wish to purchase this item or other great things from our shop! -->  ETSY.COM
Payment & Security
Your payment information is processed securely. We do not store credit card details nor have access to your credit card information.