Roll over image to zoom in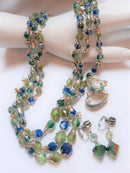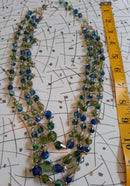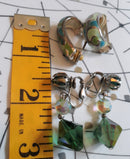 Description
We have moved our shop to ETSY. Please visit ETSY to purchase this item and other great finds. 
Very nice set of three items
1. Plastic beaded, signed Hong Kong necklace - 18 inches long, triple strand - in blue, green and gold encased beads. In excellent, almost new condition. Clasp works great. Necklace may be from the late 60-70s since the length is unusual
2. Dangling aurora borealis, glass beaded 1.2 inch dangled clip-on earrings, with padding for comfort. Earrings are from the late 50s or 60s.
3. Gorgeous half month, green, glue and teal padded clip-on earrings with similiar matching colour. These are heavy, gold plated metal - 1 inch in diameter and .25 inches wide. Looks great with the necklace. Earrings are from the 1960s
Note: I clean all of my jewelry with an ultrasonic machine or by hand if very delicate. Also, rubbing alcohol is used for sanitation purposes.
Because the necklace is bulking, the price has increased for shipping costs.
Thank you for looking!
Please visit our ETSY store if you wish to purchase this item or other great things from our shop! -->  ETSY.COM
Payment & Security
Your payment information is processed securely. We do not store credit card details nor have access to your credit card information.